PARQUE ENRIQUE TIERNO GALVÁN
OPENING HOURS
Monday to Sunday from 6 p.m. to 10:45 p.m.
21st NOVEMBER TO 21st JANUARY
MORE INFORMATION
Show suitable for all audiences. Practical for people with reduced mobility.
Estimated duration of the show 45 min.

Children under 3 years old (inclusive) do not pay admission. To use this ticket you must present the corresponding accreditation when accessing the premises (passport, family book or ID).
COMPRAR
ENTRADAS
Elige tu tipo de entrada y prepárate para
disfrutar de Naturaleza Encendida
Get a 2% balance when you
buy your tickets with Repsol app
Don't you have the Repsol app yet?
Download it now and start saving
WHAT IS INSECTS?
MADRID
NATURALEZA ENCENDIDA, the most beloved Christmas event in Madrid, moves its magic to 'Parque Enrique Tierno Galván' in Madrid.
The reknown "lights of the Royal Botanical Garden" returns with a new edition: INSECTS.
Experience the metamorphosis and take a dreamlike walk surrounded by bees, butterflies, dragonflies and lots of light!
A dream experience where you will discover a fantastic world populated by majestic butterflies, tunnels of light of tireless bees, giant dragonflies, dazzling flowers and beetles of a thousand colors... don't miss this hypnotic walk where the imagination ignites when the sun goes down.
PARQUE TIERNO GALVÁN
Parque Enrique Tierno Galván, C. Meneses, 4, 28045 Madrid (next to Avenida del Planetario)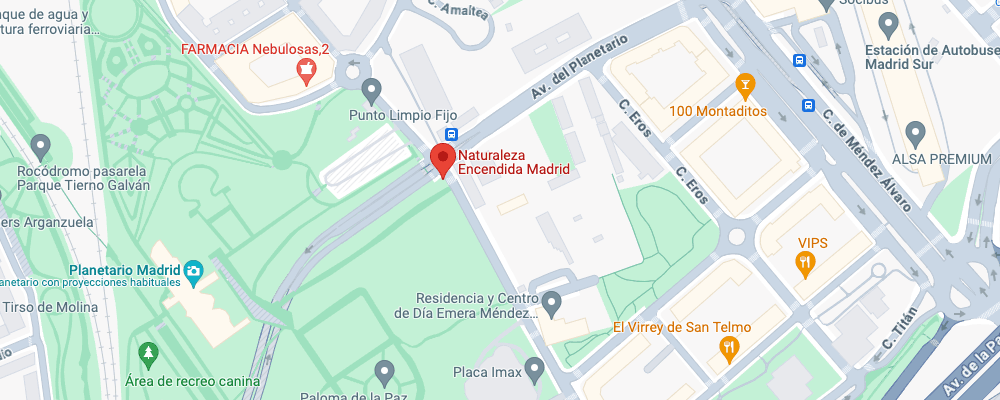 HOW TO GET THERE
Bus
Metro
RENFE suburban train
• If you purchase a ticket with a reduced rate, it is necessary to present the corresponding accreditation at the entrance to the venue.
• You can present the ticket in print or downloaded to your mobile device.
• The route lasts approximately 45 minutes.
• The 'Parque Enrique Tierno Galván' remains open and Naturaleza Encendida is celebrated normally in the rain.
• We recommend that, as it is an outdoor show, you wear appropriate footwear and clothing and, if necessary, a raincoat or umbrella.
• The route is practicable for people who access it in wheelchairs, have reduced mobility or access it with baby strollers.
• Naturaleza Encendida is an outdoor event and we aim for a safe and excellent experience. Naturaleza Encendida takes place normally in the rain. The activity will only be cancelled in the event of a weather alert and/or if the safety of visitors or the quality of the show is endangered.
• In the event of cancellation, users will be notified by SMS and/or email within 72 hours. It is important that at the time of purchase you give us your details correctly: mobile phone number and email address written in small letters.
More information
FAQs
On what dates is Lights in Nature exhibited in Madrid?
Where is Lights in Nature located in Madrid?
How can I get to Parque Enrique Tierno Galván in Madrid? Is there any parking nearby?
How can I move sustainably by public transport?
What is the opening and closing hours?
What is the difference between General Ticket and Premium Ticket?
How can I know if I have purchased correctly?
Can I cancel or change my tickets?
What is the Refund Protection service?
What are the management fees?
Can I gift my tickets to someone else?
Do babies have to pay for admission?
Do children have to pay for admission?
Is Lights in Nature accessible for wheelchairs / PMR / Baby strollers?
How do I present my tickets to access the venue?
Is there a reduced rate for groups?
Are there strobe lights and lasers present?
Is it allowed to take photographs or videos?
My event has been cancelled. What do I do to get a refund for my tickets?
Show questions
Producer

Presents

Sponsor

Official Ticketing Partner

Collaborates